**All details below are provided entirely by visitors to the Due-North website- we therefore can accept no liability for the accuracy of the information provided**
Stockley Birds of Prey
Stockley Farm
Arley
Cheshire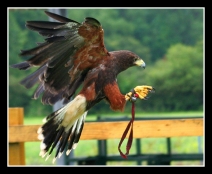 Telephone Number - 01565 777323 / 07706587024
Centre Web Address - www.stockleybirdsofprey.co.uk
Centre Email - gary@stockleybirdsofprey.co.uk
*Why do you recommend this Centre - I bought an Owl Encounter for my Dad and Partner at Christmas and can honestly say it was the best money I spent on them. Gary and his colleague Claire are really knowledgeable, interesting, engaging, enthusiastic and fun. It was a totally hands on experience, and we got to learn so much about all the amazing birds they have. I would not hesitate to go again or to recommend it to anyone with an interest in Birds of prey, and this deal is fab!
Lauren, Chester
Kielder Birds of Prey Centre
Leaplish Waterside Park, Kielder, Hexham, Northumberland.
NE48 1AX
Telephone Number - 01434 250400
Centre Web Address -
www.kielderbirdsofpreycentre.com
Centre Email - lowdenray@aol.com
*Why do you recommend this Centre - An excellent centre with over 70 birds on show, 2 flying displays daily with different birds at each display (pay once and see both displays) Very friendly staff,Ray,Jennylee and Glen will answer any questions you might have. Oppertunity to handle some of the birds.Hawk walks and experiance days available. There are also 2 pelicans that have just arrived at the centre and are just starting to be used in the displays. Fallow dear and wallaby can be seen 1 with a joey in her pouch.They also have a kids corner with guinnie pigs
N.I School of Falconry
Outside Parkgate ,Nr Templepatrick .Co.Antrim N.Ireland
Telephone Number - 07711515334
Why do you recommend this Centre ?-
Absolutely Brilliant wealth of knowledge and expertise.John Carmichael and son will make YOUR day a day to remember without a doubt.be it flying hawks, falcons ,owls or Eagles or even a vulture , John has it there for the experience.even just a photo with one .......awesome !
Hawk Conservancy Trust
Sarson Lane, Weyhill, Andover, Hampshire. SP11 8DY,
Telephone Number - 01264 773850
Why do you recommend this Centre -
the displays are just brillant and there valley of the eagles demo is most likely the best in the uk
Sion Hill Hall Birds of Prey and Conservation Centre
Falconry UK Ltd.
Kirby Wiske, Thirsk, North Yorkshire,
Y07 4EU
Telephone Number - 01845 587 522
*Why do you recommend this Centre -
Without a doubt one of the best Birds of Prey Centres in the UK.
With a fantastic collection of over 70 Birds of Prey, the displays are fantastic. Including Eagles, Vultures, Hawks, Buzzards, Kites, Owls and Falcons!
After each display the chance to handle some of the smaller birds is offered, great for kids!
The staff and birds are superb.
Falconry and Childrens Courses, Owl Experiences, Hawk Walks and Offsite Displays are avilable.
5 STAR!